Who we are
For all media brands – large and small – in Belgium, choosing Ads & Data is the best tactic.
We are an advertising network that puts connecting brands and people at the very centre of our concerns.   By combining our impressive brand portfolio with intelligent data, we help advertisers reach their target audience with ease.   Whether you are a neighbourhood baker or a large multinational, our mission is to get your message in front of the right people.
The media landscape is constantly evolving and Ads & Data is an active participant in this change unlike any other.  To spread our message, we organise many activities and events.  You will see below a selection of our most recent activities.
Let's take a look backstage
Podcast festival
Podcasts are popular.  Better still, they are everywhere.  This is what makes them interesting to advertisers too.  With this in mind, Ads & Data has established a collaborative venture with De Standaard.  During the DS Podcastfestival in Ostend, we offered an inspiring session on advertising in podcasts.
Do you want to know more? Read the full story [NL]
Het Slimste Reclamebureau ter Wereld
Advertising agencies are an important partner in the development of various advertising campaigns.  That is why, last autumn, Ads & Data organised, for the first time, The World's Smartest Advertising Agency competition.  A merciless battle between advertising titans ensued, pitting no less than 32 agencies against each other.
Curious to know who won? Read the full story [NL]
Team building Ads & Data
There would be no Ads & Data without a strong team at the helm.  To encourage a cohesive team spirit, we organise an unforgettable team building event every year.  On this occasion, our people get to know each other even better by working together on fun assignments.  Last year, we organised an Ads & Data Fair, which was a great success!
Creative CEO lunch
Continuing the annual tradition, the Creative CEO Lunch is a delicious event.  Last year, the heads of advertising agencies were invited to Misera, a trendy new restaurant in Antwerp.
Take a look at the photos
YMCE Training at Ads & Data
This year, Ads & Data had the honour of co-organising the 'YMCE Data Driven Competition'.   This is a competition for all young data analysts and digital experts working in a specialised media or advertising agency.  In short, it is an exciting competition designed to support young media talent, an aspiration that we at Ads & Data feel very strongly about.
Read the full story [NL]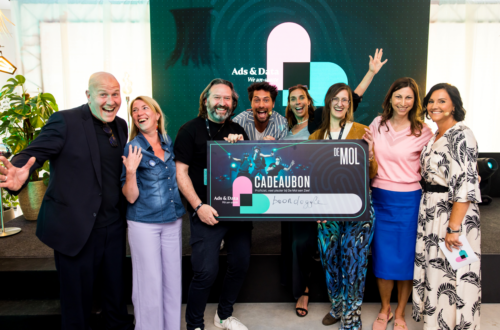 The De Mol Creative Challenge
If they had a free rein, how would advertising agencies integrate De Mol into their campaigns?  This was the question that the various brands were asked last year at the De Mol 'Ads & Data Creative Challenge'.  They were all convincing, but there could only be one winner…
Discover the winner [NL]
Client Event: Dancing with the Stars
Our customers can also shine from time to time.  Using the motto 'Work hard, play hard', we offered them the opportunity to share the limelight at the Dancing with the Stars finals after an exciting Play presentation.  It was an unforgettable experience!
Have a look at the photos
Sterrenlunches
For several years, Sterrenlunches (or 'Star Lunches') have been a well-known recipe for success among Belgian media agencies.  What is the concept?  Culinary treats enjoyed in a Michelin-starred restaurant, where our account managers and management sit down to deliver our Ads & Data messages in person.  This year, 'the place to be' was the fantastic Bozar restaurant in Brussels, where the chef Karen Torosyan reigns.
Enjoy it here
Are you curious about our mission, vision and values?
Discover them quickly via the link below!
More info